the wandering chick

...Morocco

I got back to the hotel at 12:40, and we hailed a cab to take us to the airport. We had a sweet cabbie who informed us that Jimmy Carter was just arriving in Casa for a conference on peace in Africa. Sure enough, we saw his 4-car entourage heading in the opposite direction. And where was he headed: to the Hyatt Regency.

Well, Sabena Airlines managed to screw up our plans once again. Due to something (we never found out what), we were rerouted, catching a Swiss Air flight to Geneva, Switzerland, before arriving in Frankfurt.  Actually, we got into Frankfurt 2 hours earlier than we were scheduled with Sabena, but it ruined our plans to meet friends in Brussels and see their new baby girl, Lauren Kate.  We were thankful we had taken my car to the Frankfurt airport. That saved us another hour of travel time.

We had an amazingly wonderful trip. There's a smell in the air at M'kesh that could be hash or could be one of the many, many cooking spices, but whatever it is, it fills your nostrils, and clings to your clothes and hair as it leads you through the crowds and alleys of the most bizaare marketplace in the world. And, if ever in my life I "smell the smell," a smile will come to my lips as I think warmly of Marrakesh.

from Casablanca to Marrakech, and back

We arrived Casablanca (1-hour time change) at 1:30, took a train from the airport to the main station (Gare des Voyageurs), and once again faced a delay of more than an hour for the train to take us the 3-hour ride to Marrakech.  We arrived Marrakech around 6:00 pm.  Our guide book said, "Keep your wits about you as you haggle for a taxi."  Our wits were about depleted, but we haggled just the same and paid 15 Dirham ($1.75) for a ride to our hotel.  The taxi driver wanted 30. The guide books said around 10.  Not too bad.

We had made reservations at the Hotel Ali, a well-recommended hotel just off the Medina (the old town) and because of its close proximity to our main reason for going to Marrakesh: the Djemaa el Fna.  We scoped out the hotel, unloaded our bags, then headed straight across the street to the souk (markets) at the Djemaa el Fna.  The hotel was fine and it offered good food.  I'd stay there again and I'd recommend it to anyone, though its appearance from the outside would make one dubious.

Day One:
I picked up my travel partner at her house in Darmstadt, Germany, at 6:30am; we were at the Frankfurt airport by 7 for our 8:00 flight. We were promptly put on the plane where we waited for more than an hour for them to unload some leaking cargo.  This put us late for our connecting flight in Brussels, and we wondered if we'd make it at all.  We were told "no" by at least a half-dozen Sabena Airlines people, but  after literally running through the airport to catch it, we finally persuaded the ticket agent at the gate to get us on the only flight of the day to Casablanca.  She did.  We sighed a sigh of relief as we plopped down in row 13.

Djemaa el Fna - there's no place like it in the world. It was crowded, dirty, muddy (due to recent rains), and an experience like none I've ever had.  There are three types of people there: the merchants who haggle you to buy their wares; the locals who want to "guide" you through the souk under the pretense of keeping you from getting lost through the narrow and winding alleyways, but really to get a cut of anything you buy; and us, the bewildered tourists.  But we did okay: we didn't make eye contact with the merchants or the guides, we didn't get lost, and we didn't buy a darn thing.

The various attractions that you normally see, such as the water sellers dressed in their bright costumes and the snake charmers, were few.  We did see one snake charmer, but since the guide books said to keep to the back of the crowd if you didn't want a snake wrapped around your neck, and since there was no crowd around this snake charmer, I took off in the opposite direction. We spotted an unthreatening one the next day and were able to get pictures. And, no, I didn't get one put around my neck, though I don't think the guide books were lying. We were back at the hotel around 9:30, too tired to eat anything, though the hotel's buffet food smelled delicious.

Day Two: This was a day of walking, and walking, and walking. We saw a lot, and when we thought we could walk no more, we made one last quick trip through the Djemaa el Fna so that I could get some snake charmer pictures, then we went back to the hotel for an early dinner, with plans to go up to the terrace and watch the sunset.  We ate chicken couscous, which was delicious. We paid 40 dihram ($5) for the meal and coffee. There was no sunset, but we relaxed up on the terrace and looked out over the Djemaa el Fna at the crowds of people, the nicely lit mountains of the High Atlas in the background, and the locals milling in their brightly-colored clothing.  As the sun went down, the lights of the souk came on, offering a nice glimpse of the Djemaa el Fna by night, with puffs of smoke rising off the many grills that were cooking types of food we couldn't possibly identify.

On a previous trip a couple of years ago I had seen this tourist with a really neat leather suitcase, more like an elongated gym bag. When I commented on it, asking where she got it, she said Morocco. Since then, I'd been wanting to go to Morocco and get one of those bags.  So, we went back to the market with the intent of buying one. We saw one at the first shop we went into, nice sheepskin, very soft, well made (I think) with beautifully-colored Kilim around the sides in the middle. The price was much cheaper than I thought it might be. The asking price was 475 dirham (less than $60).  After bargaining for a few minutes, I walked away with it for $33. 

Later, we sat at a little side-walk cafe (hardly comparable to any you might find in Paris). It took us half the length of the cokes to decide how to approach the upcoming payment for them and how not to get gypped on the price. We had already been told up the street that a coke would cost us 10 dirham. We bargained for 4, but the guy wouldn't budge. We decided that if we just go up to the counter with a 10 dirham bill as if we knew exactly how much the cokes cost and were expecting change, we'd be alright.  It worked. I got 2 dirham back and free directions to the Kasbah.

On the day prior to leaving Marrakech, we asked the hotel receptionist to make arrangements for us a driver to take us to Casablanca.  Since the drive was only 2 or 3 hours, and we had all day, we mentioned a side trip somewhere to the countryside.  She suggested the cascades. We were able to get a driver for 700 dirham. We pay gas for the trip there and back.  Later, we got a knock on our hotel door by a young American guy named Andrew who was traveling alone in Morocco, and had also asked for a driver to Casablanca. The receptionist suggested he ask if he could ride with us. He was a nice guy, and it made the already cheap price even more of a bargain.  It was good to have him along for a couple of reasons: He was better company for Mohammed, our driver; he wanted to stop for pictures every inch of the way as I did, and it's always easier to ask to stop when there's someone else also wanting to; and it was he who sat in the front seat as we barreled down the highway wondering how many two-legged and four-legged creatures Mohammed was going to smack into. It was incredible drive between the two cities with the High Atlas Mountains always in the background.  

Day Three:

So, for $135 we had our own personal guide to low-fly us through the countryside of Morocco. I always thought the Romans had the rest of the world beat by a long shot when it came to horn-honking.  Mohammed, our driver, as well as all the other Moroccans, proved me wrong. They honk at fellow drivers, mopeds, children, donkeys, sheep, birds, and anything else that looks even remotely like it may have life.

We saw some spectacular scenery. The weather was perfect with blue skies and big white puffy clouds against the luscious green "carpeted" landscape. An occasional poverty-stricken village reminded us we were in Morocco and not on some Hawaiian island.  In the background for much of the trip were the snow-capped mountains of the High Atlas. We couldn't get enough pictures, and those we did get will not have done justice to the beauty.

We got to the Cascades d'Ouzoud around 12:30. This is Morocco's highest waterfall, which drops 100 feet. We spent an hour there. It was a pretty spectacular sight, too, even though the falling water was muddy from the recent rains.  Mohammed assured us the water was perfectly clear in the summers.  As dirty as the water was, it didn't take away from the beauty, nor from the perfect 180-degree rainbow formed at the bottom of the falls.

We drove on, stopping about 60 km down the road for lunch. I don't know the name of the town, but we ate a great meal of beef and potatoes, with the most delicious bread and a salad.  Cost: 40 dirham ($5)...that's total for 4 people. 

Since we still had a few hours' drive ahead of us, there was little stopping for photos or anything else the rest of the way. We had asked to be in Casablanca by dark.  We got there just at dusk, straight to the door of the Hyatt Regency.  We could have had a pretty cheap trip, except we blew it at the end by paying 1600 dirham for the double room at the Hyatt.  That was $100 apiece.  The only difference between the Hyatt and the Hotel Ali was that the Hyatt was a little warmer (in fact it was too warm) and it had a TV. Well, okay, maybe that's stretching it, but I can honestly say I had a much nicer hot bath at the Ali. We had a delicious Chinese buffet meal in one of the seven restaurants at the Hyatt.

Day Four, fly-out day: 
After coffee in the lobby, we took off to compare Casa's Medina to that of M'kesh's. It was nothing in comparison, so we headed back to the hotel, where my friend relaxed while I ventured out on my own to see what I could see. I ended up at the Grand Mosque of Hassan II, which turned out to be a highlight of the trip.  It was spectacular, touts the highest minaret in the world, and is located right at the edge of the Atlantic.  A grand place, even though there's nothing visually old about it.  It had just finished renovation in the mid 1990s.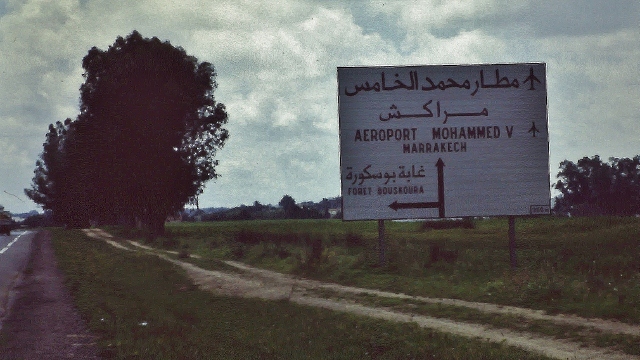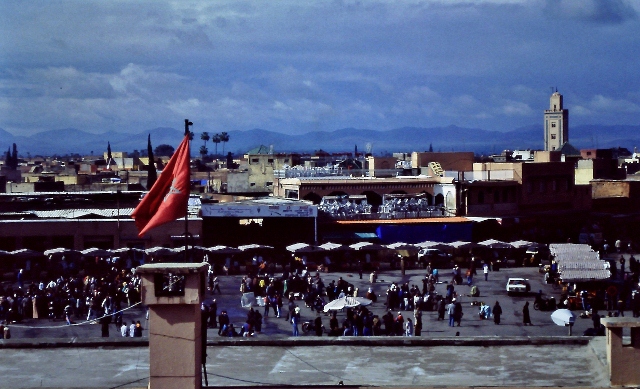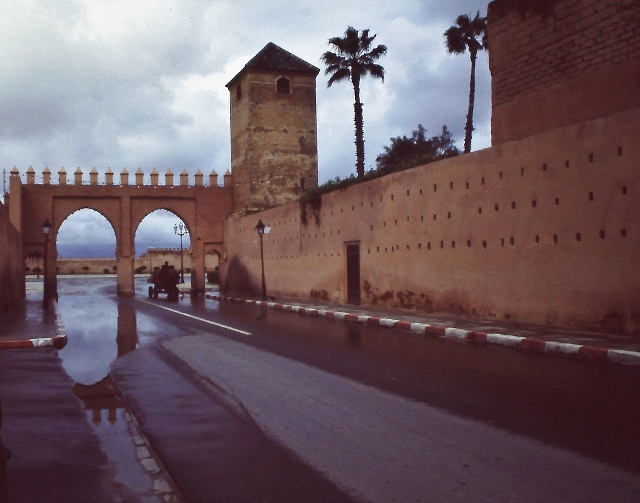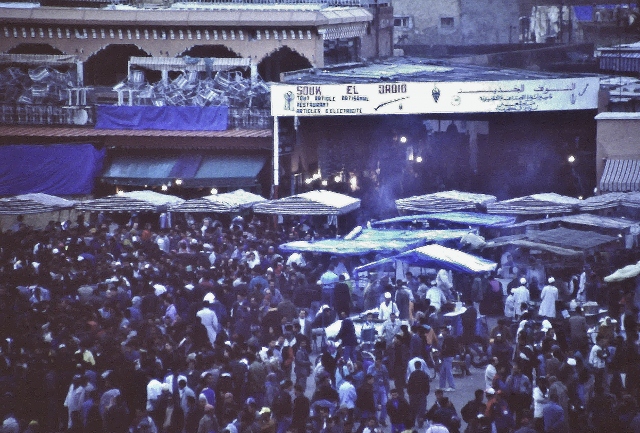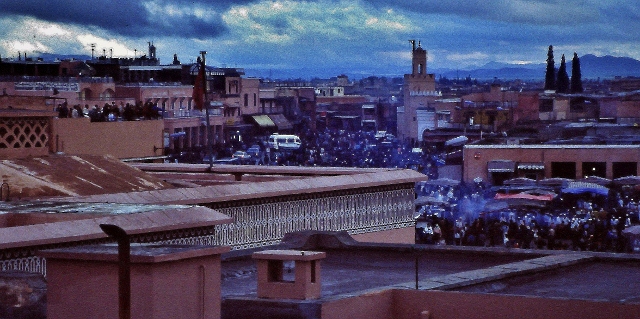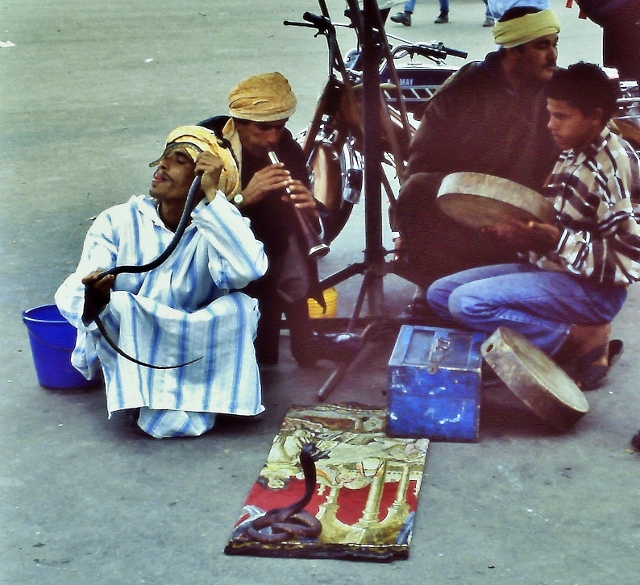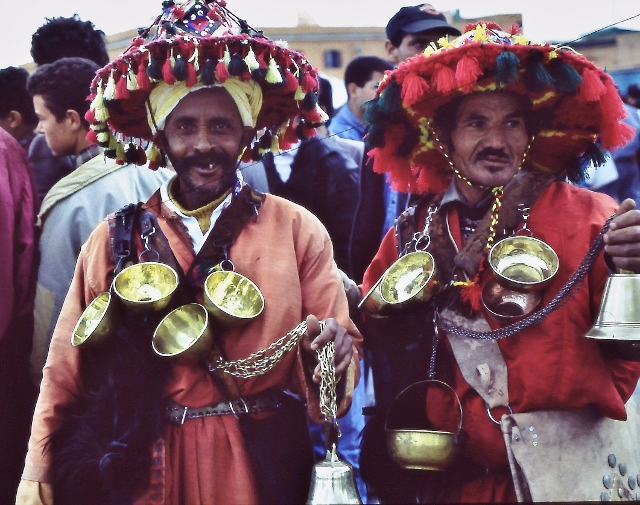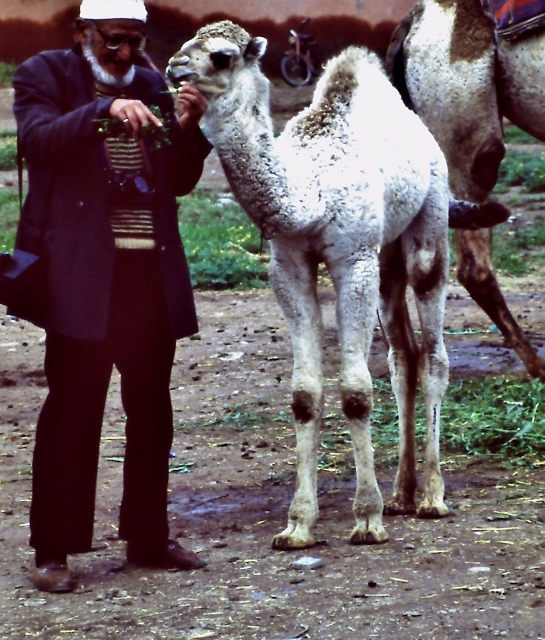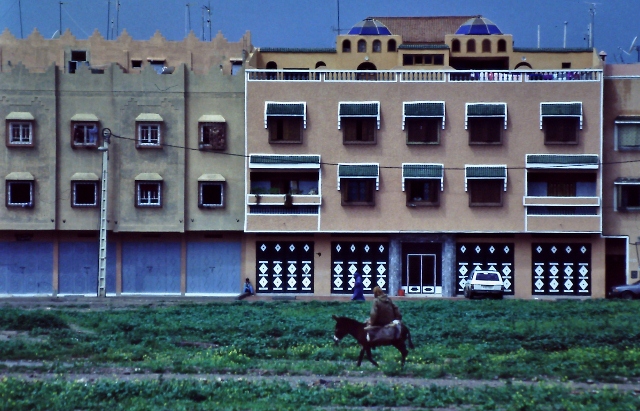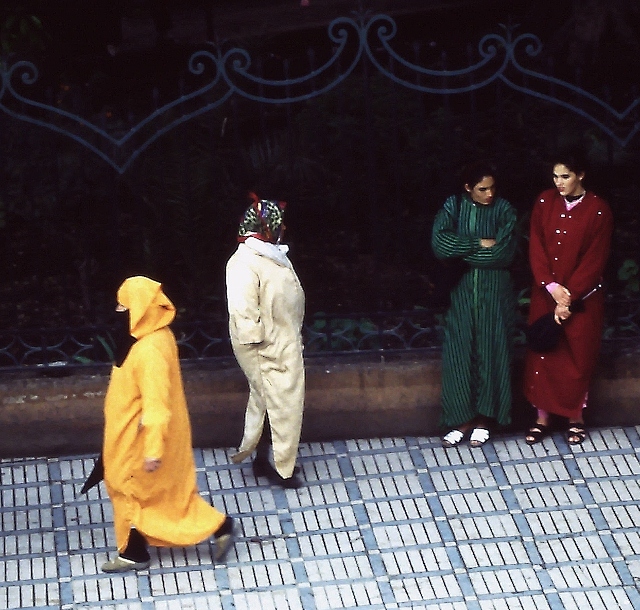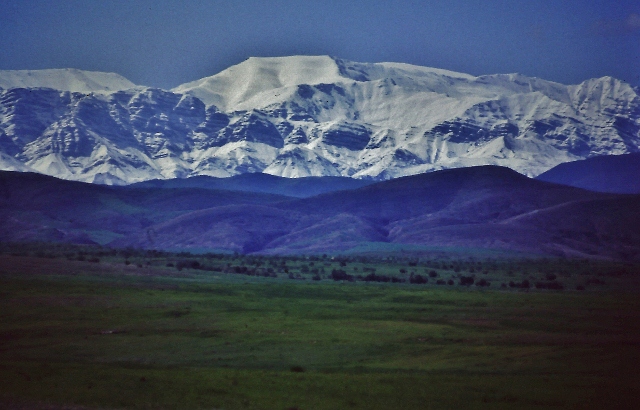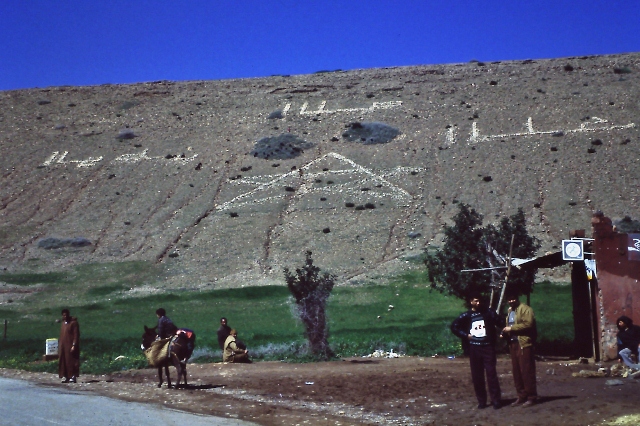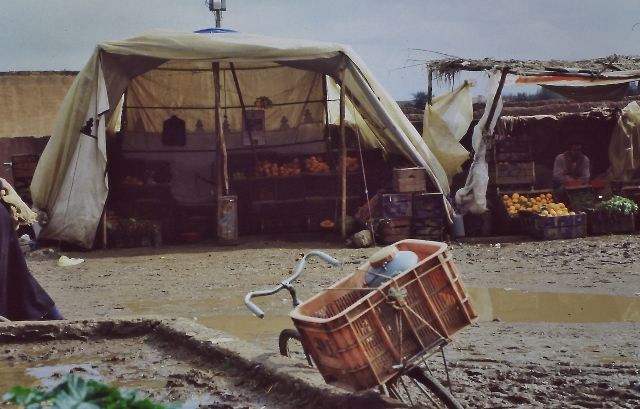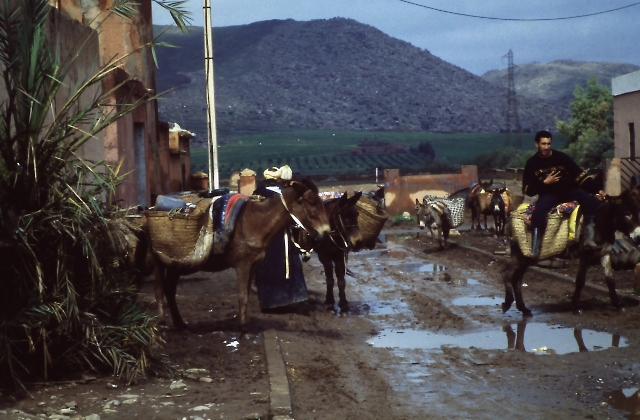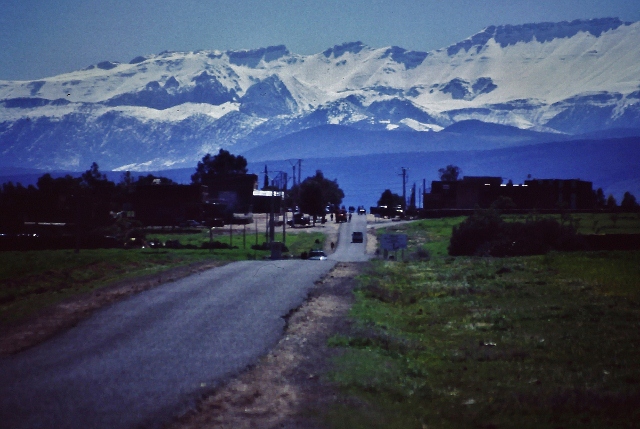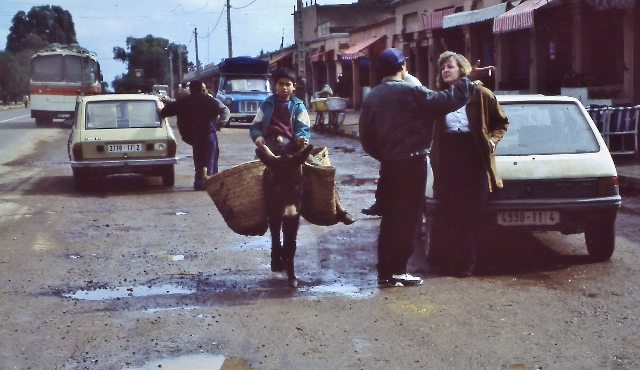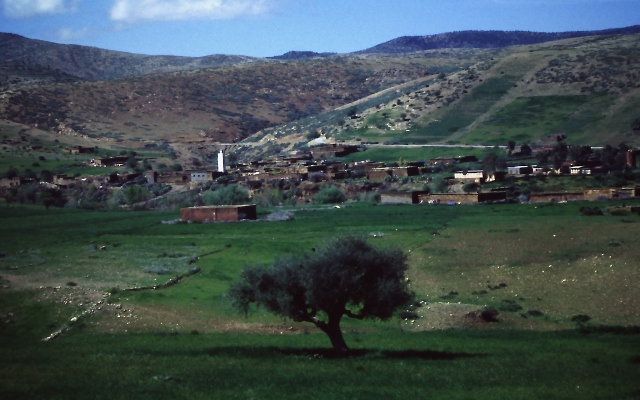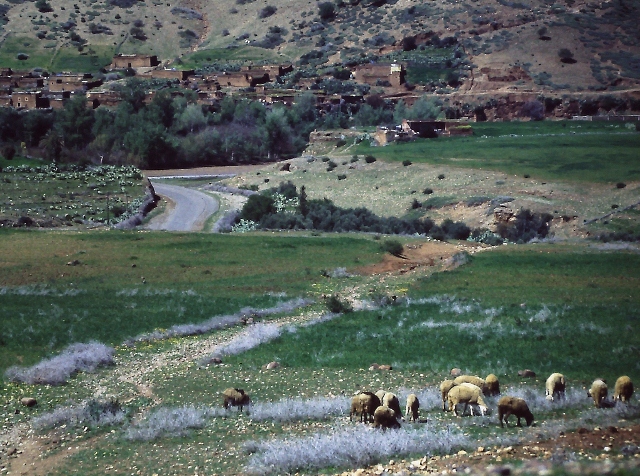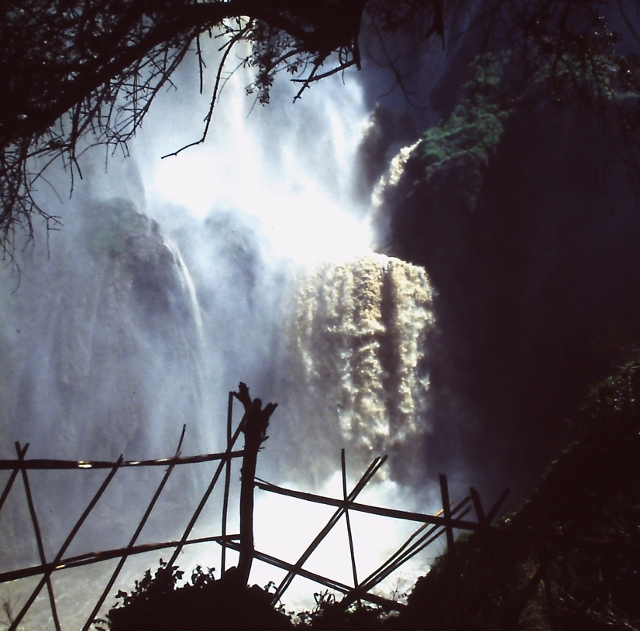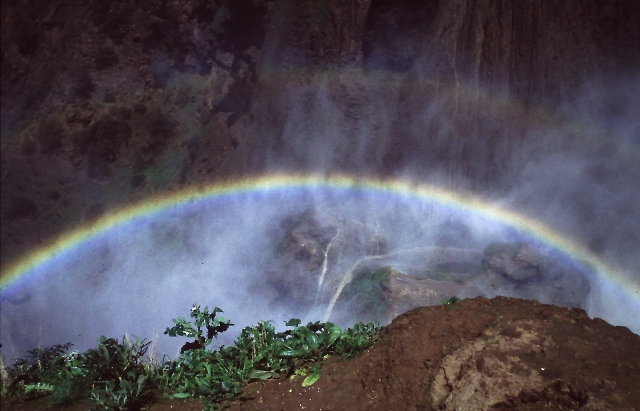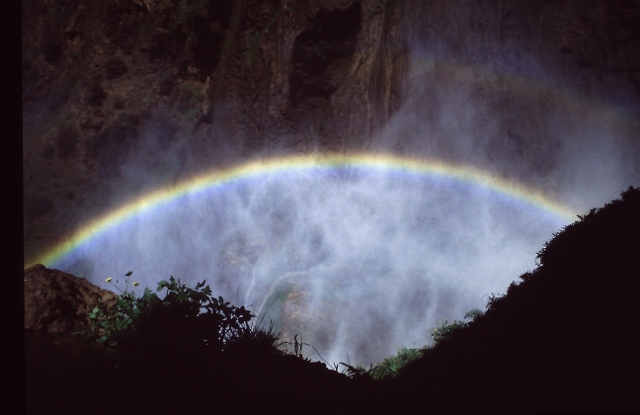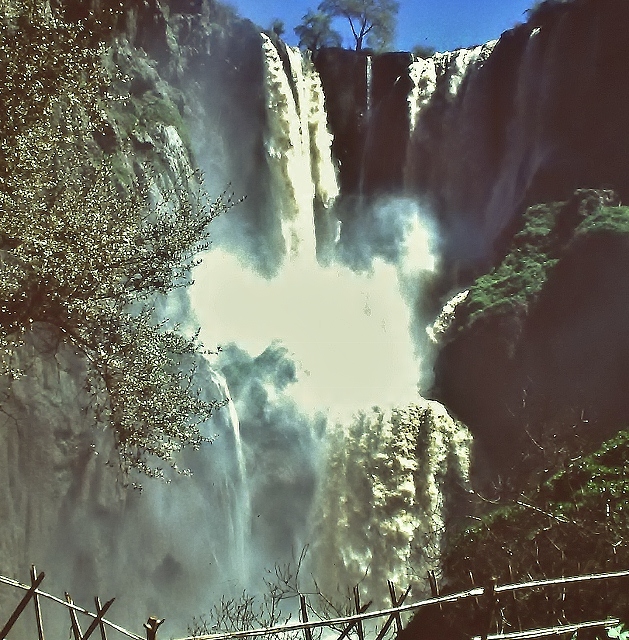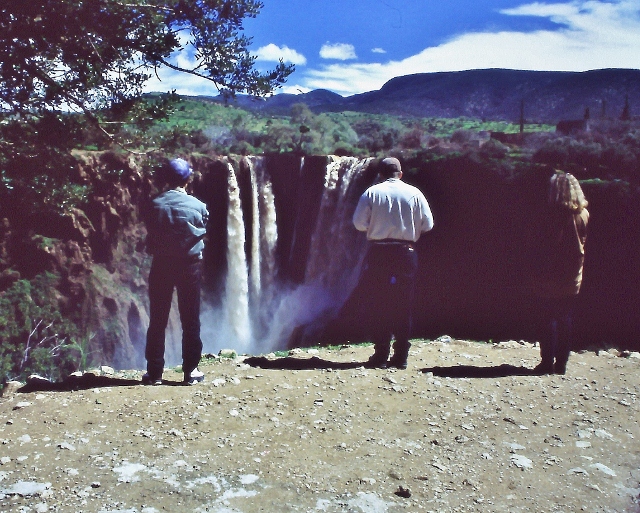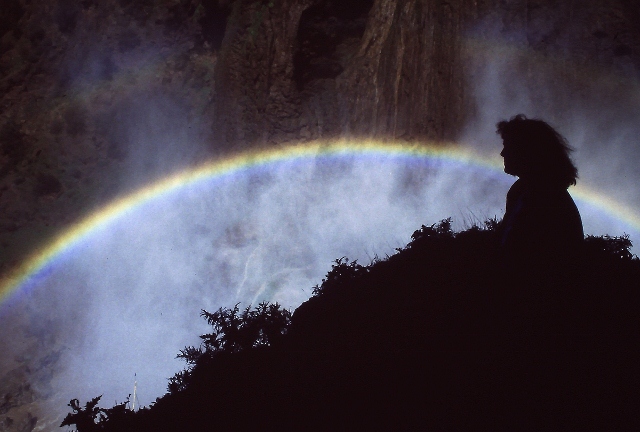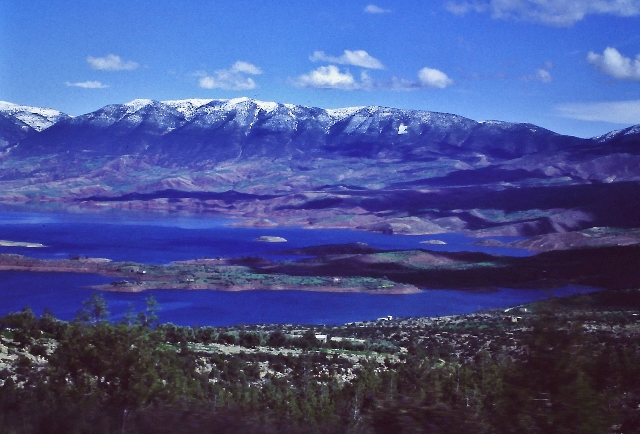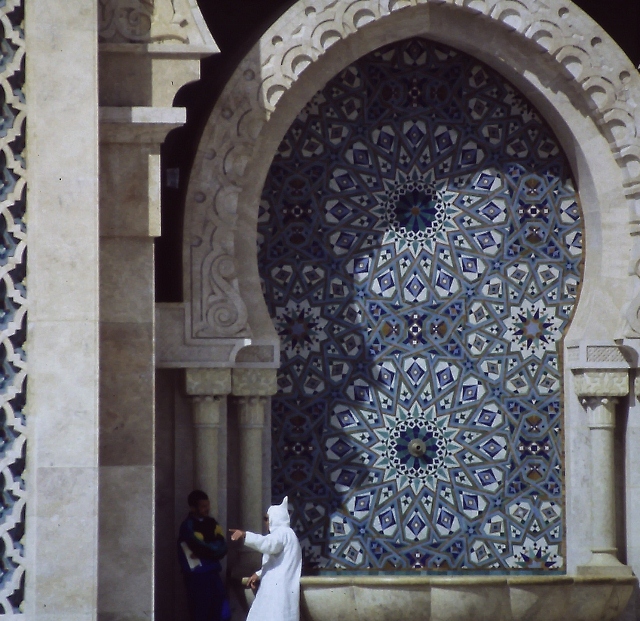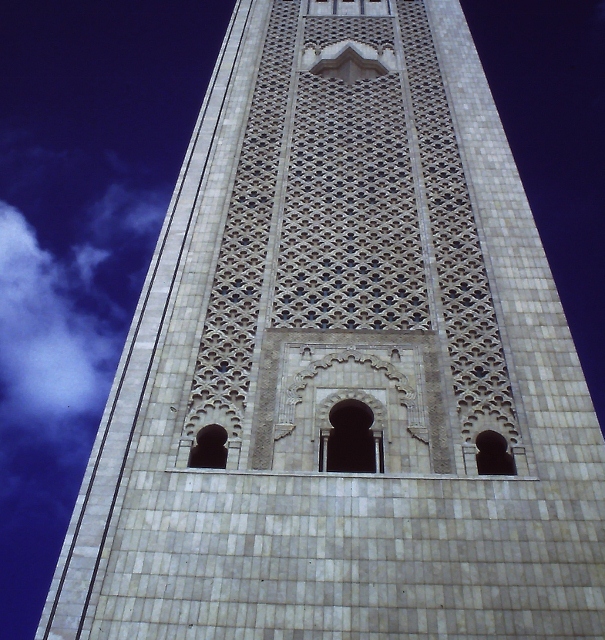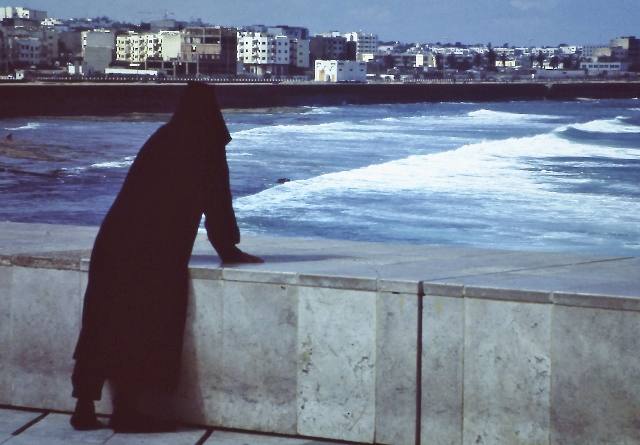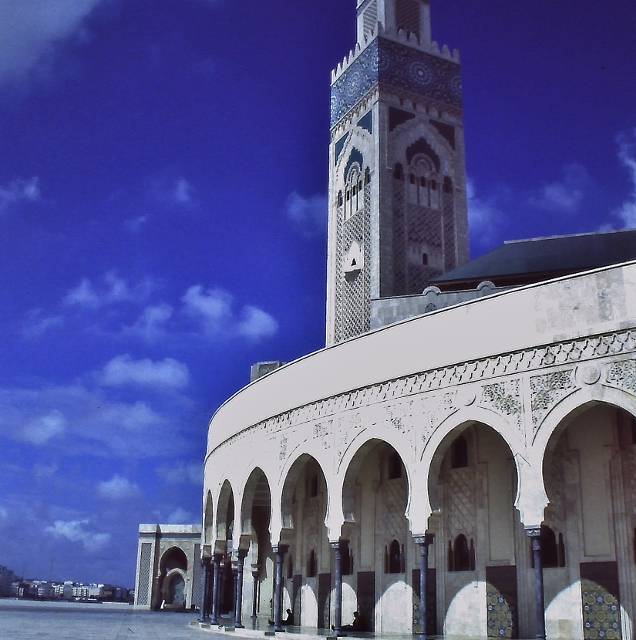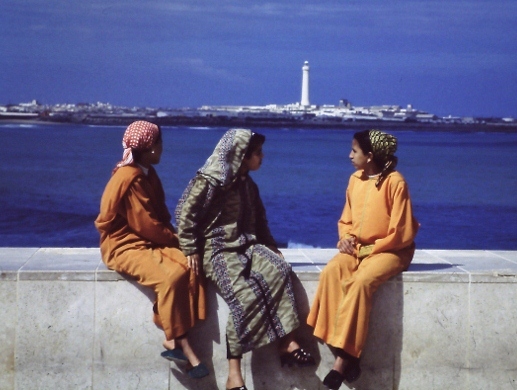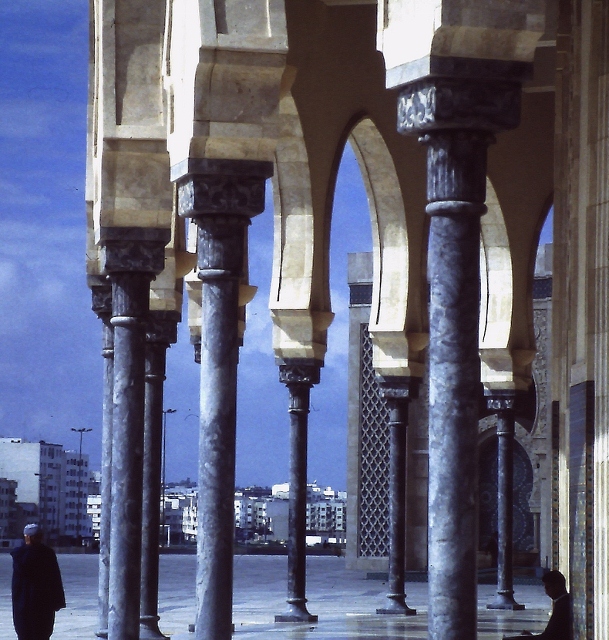 Some 16 years after making this trip to Morocco, I have found my travel notes and pictures. They were originally slides. So, I bought a digital scanner and saved what photos I could. Unfortunately, a lot of quality in the slides' colors has been lost in the transition.
Thank you for visiting these photo pages.
If you're interested in seeing more, please return to the Main Menu at the bottom of my home page and make your selection.
All images within 'The Wandering Chick' Web site are copyright protected. They may not be downloaded or otherwise copied.
Please contact me if you think a particular photo or set of photos can be used in your publication.